AWS re:Invent started yesterday with a lot of exciting and amazing updates, here is a quick recap from Adam Selipsky's Keynote today.
---
Amazon RDS Blue/Green Deployments is a new feature for Amazon Aurora with MySQL compatibility, Amazon RDS for MySQL, and Amazon RDS for MariaDB that enables you to make database updates safer, simpler, and faster.
New for Amazon Redshift – General Availability of Streaming Ingestion for Kinesis Data Streams and Managed Streaming for Apache Kafka
Amazon Redshift Streaming Ingestion is now generally available to the public. With this new capability, Amazon Redshift can natively ingest hundreds of megabytes of data per second from Amazon Kinesis Data Streams and Amazon MSK into an Amazon Redshift materialized view and query it in seconds.
AWS announces Amazon Aurora zero-ETL integration with Amazon Redshift
Amazon Aurora now supports zero-ETL integration with Amazon Redshift, to enable near real-time analytics and machine learning (ML) using Amazon Redshift on petabytes of transactional data from Aurora. This integration will let you build and maintain complex data pipelines to perform extract, transform, and load (ETL) operations.
AWS announces Amazon Redshift integration for Apache Spark
Amazon Redshift integration for Apache Spark helps developers seamlessly build and run Apache Spark applications on Amazon Redshift data. Amazon Redshift integration for Apache Spark minimizes the cumbersome and often manual process of setting up a spark-redshift open-source connector and reduces the time needed to prepare for analytics and ML tasks.
Amazon DataZone
AWS today announced Amazon DataZone, a new data management service that can help enterprises catalog, discover, share and — most importantly — govern their data.
Container runtime threat detection for GuardDuty
Container runtime threat detection for GuardDuty is a new AWS service that lets you detect threats running inside your containers and identify attempts to access host nodes running inside your EKS cluster.
Preview: Amazon Security Lake – A Purpose-Built Customer-Owned Data Lake Service
Amazon Security Lake is a purpose-built service that automatically centralizes an organization's security data from cloud and on-premises sources into a purpose-built data lake stored in your account.
New AWS SimSpace Weaver–Run Large-Scale Spatial Simulations in the Cloud
AWS SimSpace Weaver is a new compute service to run real-time spatial simulations in the cloud and at scale. With SimSpace Weaver, simulation developers are no longer limited by the compute and memory of their hardware.
Announcing Amazon EC2 C7gn instances (Preview)
Amazon Elastic Compute Cloud (Amazon EC2) C7gn instances are powered by the latest generation AWS Graviton processors, and are available in preview. Featuring the new AWS Nitro Cards, Amazon EC2 C7gn instances deliver the highest network bandwidth, and the best packet-processing performance for Graviton-based Amazon EC2 instances.
AWS KMS launches External Key Store
AWS Key Management Service (AWS KMS) introduces the External Key Store (XKS), a new feature for customers who want to protect their data with encryption keys stored in an external key management system under their control.
Introducing Amazon Omics
Amazon Omics is a new purpose-built service that helps healthcare and life science organizations store, query, and analyze genomic, transcriptomic, and other omics data and then generate insights from that data to improve health and advance scientific discoveries.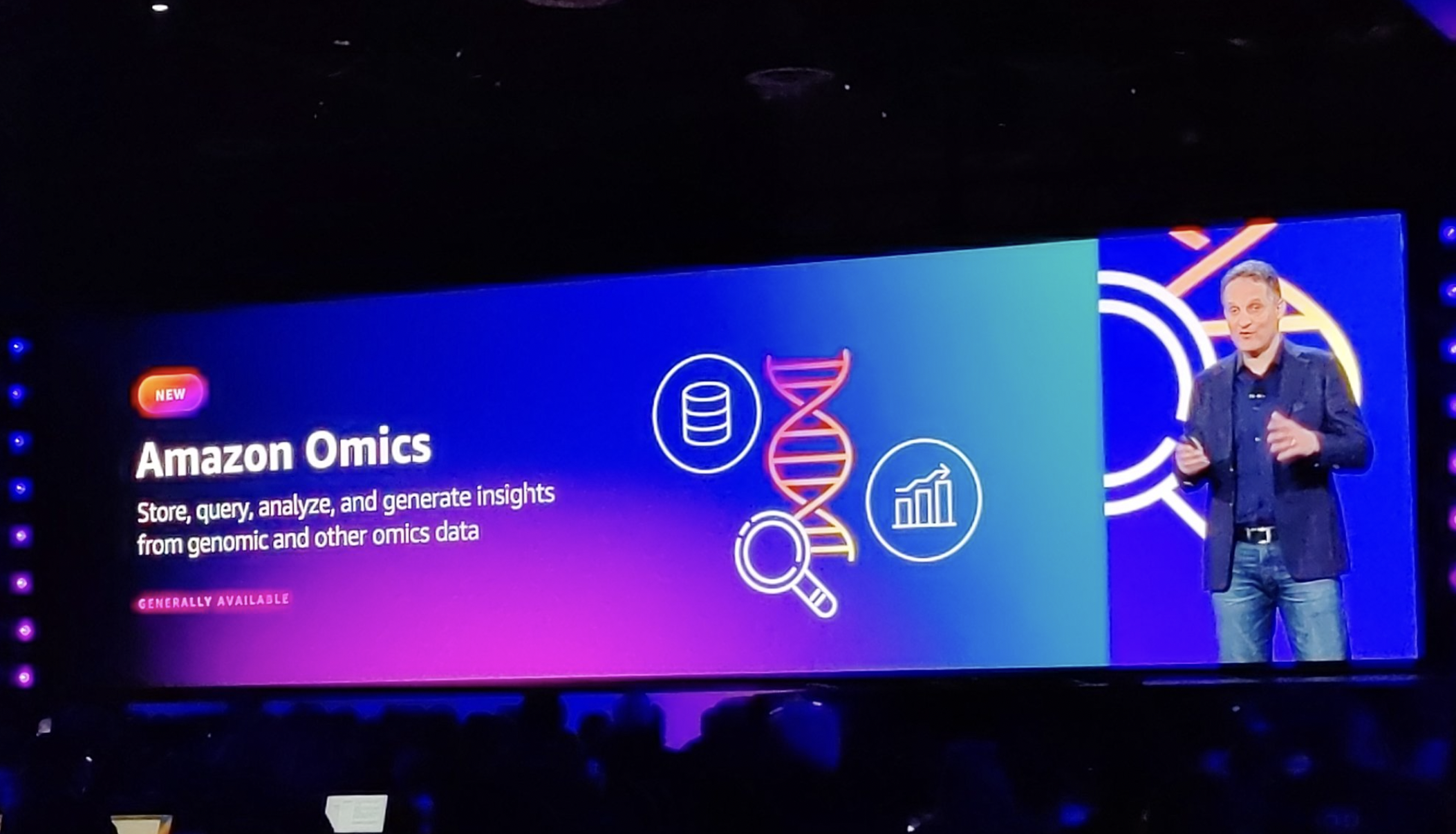 ---
CTO.ai provides a consistent Developer Experience across the entire important part of your software development lifecycle, thus enabling better outcomes and quicker delivery. We enable teams to easily integrate their existing tooling into a unified workflow that provides both development tools and application hosting infrastructure
If you'd like to learn more about the exciting announcements at AWS re:Invent this year, be sure to tune in to our blog! We'll be covering the day's events every day.
Follow us on Twitter and LinkedIn to get more exciting updates about AWS re:Invent.