Managing your cloud finances requires evolving your financial control processes to handle cost transparency, planning, control, and optimization in AWS. An ideal cost management system will manage your cloud costs, from the point of your initial cloud migration, through any expansion of your cloud services. To help you better understand this concept, this post will look at the best practices of cloud financial management in an AWS environment.
---
What is Cloud Financial Management?
Cloud Financial Management (CFM) is an approach that enables organizations to achieve cost-efficient business outcomes, manage cloud spending, and present a full picture of the organization's cloud investments. Applicable to varied fields like technology, finance, product, and business, CFM is a proven strategy to plan, optimize, and manage cost as an organization develops and scales up on AWS.
Implementing CFM in Your Organization
Before implementing a cost optimization program, an organization needs to have processes in place for defining and governing its CFM policies and procedures. The sections below describe the best practices and considerations that an organization should take into account when planning their Cloud Financial Management program.
Development of a Cost Optimization Function
One of the best ways to handle automated cost optimization on AWS is by creating a Lambda function for it.

Of course, before undertaking any cost optimization efforts, an organization must first understand its needs and develop governance processes for their CFM program; this governance process should be developed by a cross-functional team of experts from the various domains within the organization.

Although this team might take on a permanent name like the Cloud Business Office (CBO) in a larger organization, the most important requirement for even an ad hoc Cloud Financial Management team is that it represents a cross-section of the different roles in your organization, including technology, finance, and business operations.

Your CFM team will be responsible for creating the cost awareness processes and implementing the cost optimization functions for your organization.
Risk from Not Establishing this Practice
High. Without a team in place to implement and maintain your Cloud Financial Management processes and functions, costs can become unmanageable.
Implementing this Practice
To avoid the risk of unmanageable cloud costs and establish an effective cost optimization process, consider the following factors when developing your Cloud Financial Management function: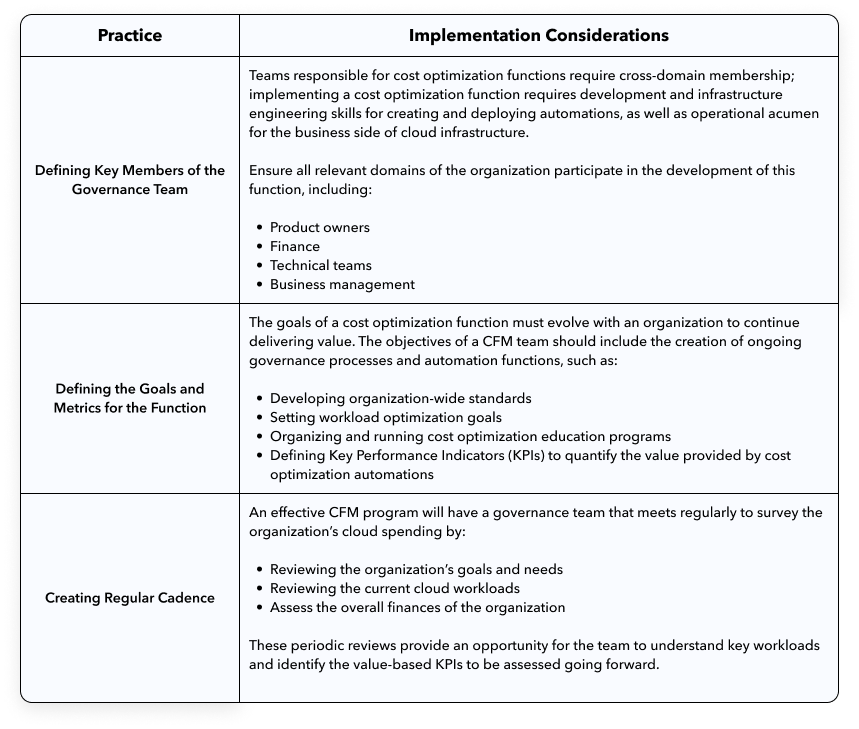 ---
Create a Partnership Between Finance and Technology
Taking a business to the cloud requires the involvement of the organization's technology and finance teams at all stages of the discussion. This partnership should include regular collaboration between the teams to establish the goals of the organization, its financial and account practices, its current technology needs, and the cost of operation.
Risk from Not Establishing this Practice
High. Without a shared understanding of an organization's goals and operational practices, it's impossible to effectively optimize cloud workloads.
Implementing this Practice
To avoid the risks associated with a lack of coordination between different sides of the organization, take the following practices into account when implementing your CFM program.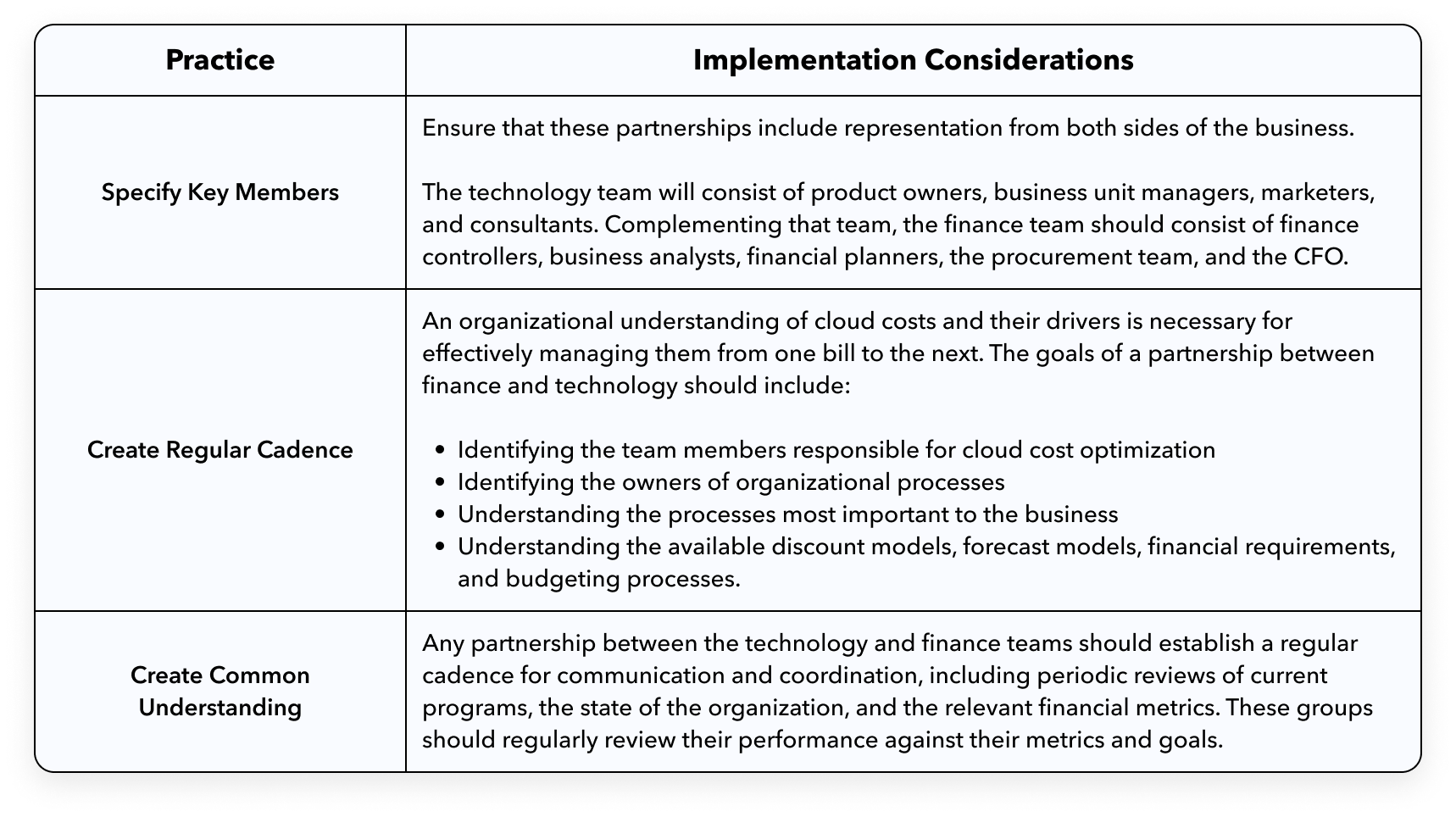 ---
Develop Forecasts and Cloud Budgets
When it comes to cost optimization on AWS, organizations must adopt dynamic processes to account for the flexible nature of cloud systems, their costs, and their usage patterns. This may require an organization to adjust their existing forecasting and budgeting processes to become more compatible with dynamic infrastructure environments, using modern forecasting algorithms that account for the requirements of business drivers.
Risk from Not Establishing this Practice
High. Without effective budget and forecasting processes in place, cloud costs can become unpredictable over time.
Implementing this Practice
The following table describes the best practices to consider when developing forecasts and budget models for your cloud cost optimization strategy:


---
Implementation of Cost Awareness in the Company's Processes
One important practice for effective cost optimization is to make cost awareness a fundamental element of the organization's other processes. Cost awareness includes transparency and accountability for the costs of business processes that drive AWS usage, and every member of the organization should be trained to account for these costs in the context of their typical business processes.

Risk from Not Establishing this Practice
High. Without an organization-wide understanding of the costs associated with cloud workloads, many of the most impactful cost optimizations that a team can make may be missed.
Implementing this Practice
The following table describes the best practices that can be applied within your organization to increase cost awareness in general: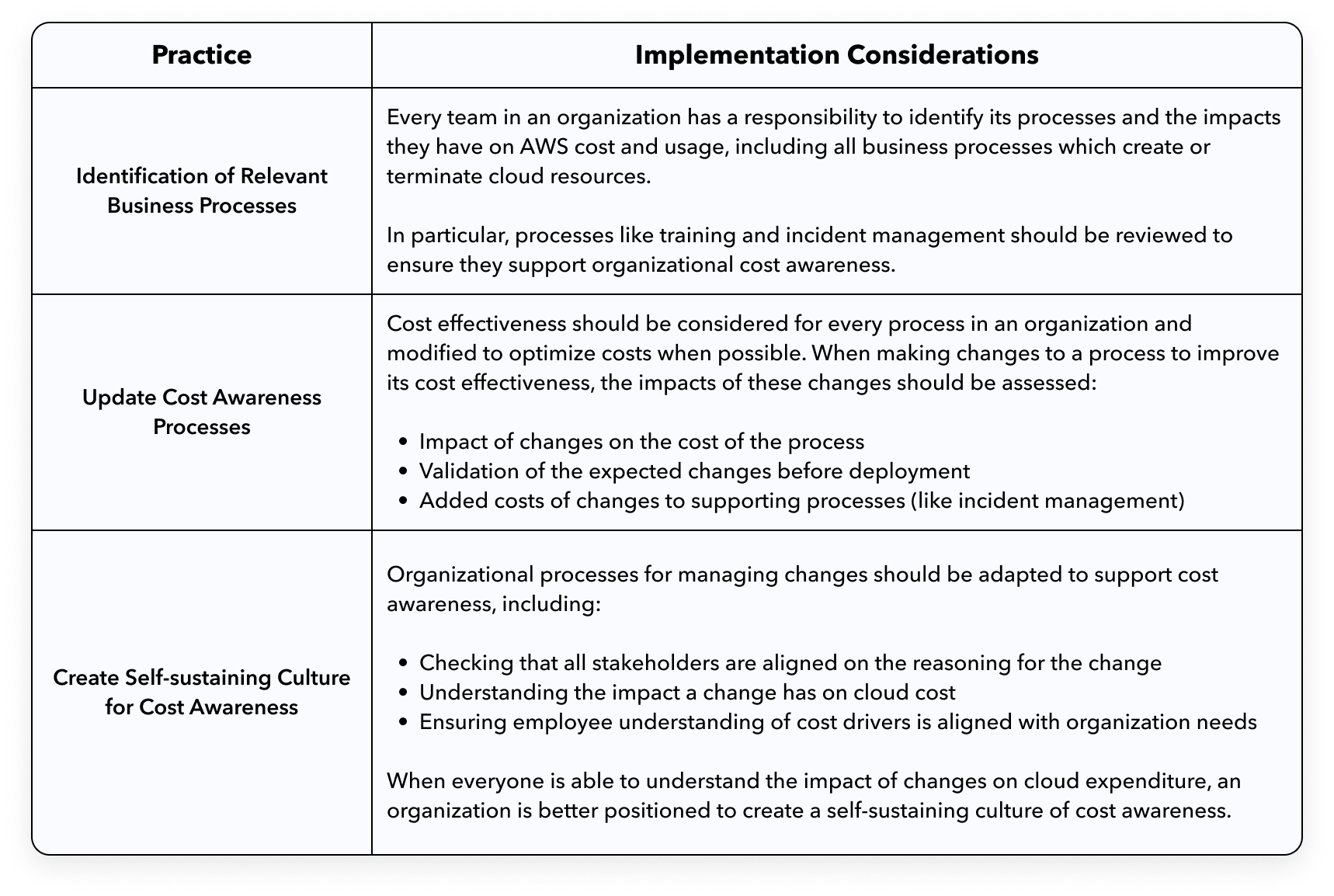 ---
Conclusion
Cloud Financial Management is an essential concept for any organization. Hopefully, after reading this post, you've developed a better understanding of the best practices that are the foundation of an effective cloud cost optimization strategy. In the rest of this series on Cloud Financial Management in AWS, we'll have a look at the various ways you can manage your cloud resources more efficiently and keep unnecessary expenses off of your AWS bill.
---
Written by Vikash Kumar of TatvaSoft
Vikash has a rich experience in digital content publications and you will find his many by-lines published in many reputed publications.